Cobra Beer Boss Lord Karan Bilimoria Blasts Theresa May's 'Illiterate' Immigration Target, And Speaks Of 'Appalling' Post-Brexit Racism.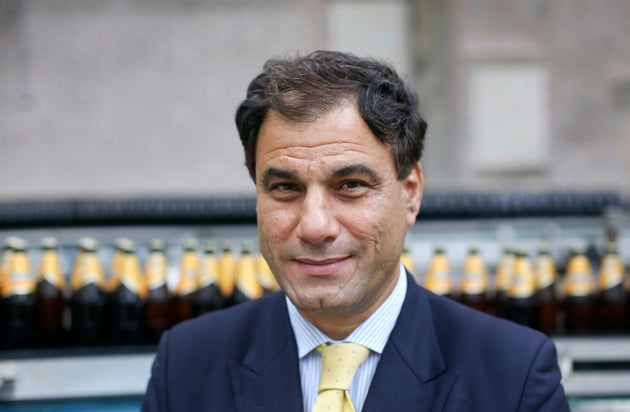 I've received hate crime that I had never received in three decades.
A top peer and celebrated entrepreneur has blasted Theresa May's immigration target as "economically illiterate" as he spoke of the "appalling" racism he has received following the "wretched"Brexit referendum.
Lord Karan, founder of Cobra beers, said "anti-immigration sentiment is like never before", and revealed he has been told to "go back to India" since the vote.
The cross-bench peer's withering criticism came as the Prime Minister was due touch down in India for a three-day trade mission.
Lord Bilimoria, who is President of the UK Council for International Student Affairs, took aim at May wanting to cut net migration from more than 300,000 to 100,000, and warned of her previous "very negative messages" towards migrants when she was Home Secretary.
On the BBC's World This Weekend, he renewed his call for international students to be removed from the "ridiculous" aim to get the target below 100,000. He said:
"It is not an economically literate target. In fact, the Government's approach to immigration is economically illiterate.

"If you look at the numbers and the logic, we have the lowest level of unemployment in living memory of less than 5%, and that's in spite of 3.6million people from the EU working in Britain.

"Without that foreign immigrant workforce we wouldn't be able to manage as an economy. We wouldn't be the fifth-largest economy in the world."
He went on that May has "a lot of bridge building to do" in India to "get a message across that we actually have a sensible approach to immigration".
The peer, who was born in India and moved to the UK as a 19-year-old student, spoke of the "appalling" racism that has followed the June vote. He said:
"I have personally received racism and hate crime that I had never received in three decades.

"I find that very sad whether it's tweets, and of course people hide behind tweets, or whether it's emails.

"But also I get letters sent to me in Parliament with the person signing with their names and their address, letters telling me that it is me and my kind that are a problem, I should go back to India, we don't need you you are a foreigner."

"It's appalling, it is really sad and it's frightening. This has got to stop and it's all down to this wretched referendum that has unleashed this."